Hip Hop News
Patrick Patterson continued his anti-black women comments, when he asked a black woman if he should go blind looking at her, when she called out NBA players for being with white women, telling her color doesn't matter, and to wake up
By Bossyy
Hip-HopVibe.com Staff Writer
This weekend, Patrick Patterson has come under fire for comments he made, two months ago. Sharing photos from his wedding, with his wife, a fan questioned Patterson on why he chose to marry a white woman. It was a lot of back and forth going on, before Patterson spoke his mind.
After the fan told Patrick Patterson that him being an NBA player is the only reason the woman was with him, he said he didn't care. Then, he went onto ask if he was supposed to be with a bulldog instead. Those comments resurfaced, yesterday, to much backlash.
Patrick Patterson is definitely one of Twitter's hot topics, as some people are attacking him, while others are defending him. These sides are mostly drawn by male vs. female, with more men for him, and more women against him. But, while this debate has gone on, more comments have surfaced from Patterson.
Under his IG comments, posts of pics with Patterson, and his wife, a black woman repeated the comment about his wife not wanting him if he wasn't in the NBA. To her, Patterson questioned if he should "go blind" looking at her, instead. When she called him out on that, referring to his mother, and black women as queens, saying she hopes they expose how disrespectful he is, he said all women are queens, and color doesn't matter, telling her to "wake up."
See Patrick Patterson's IG comments below: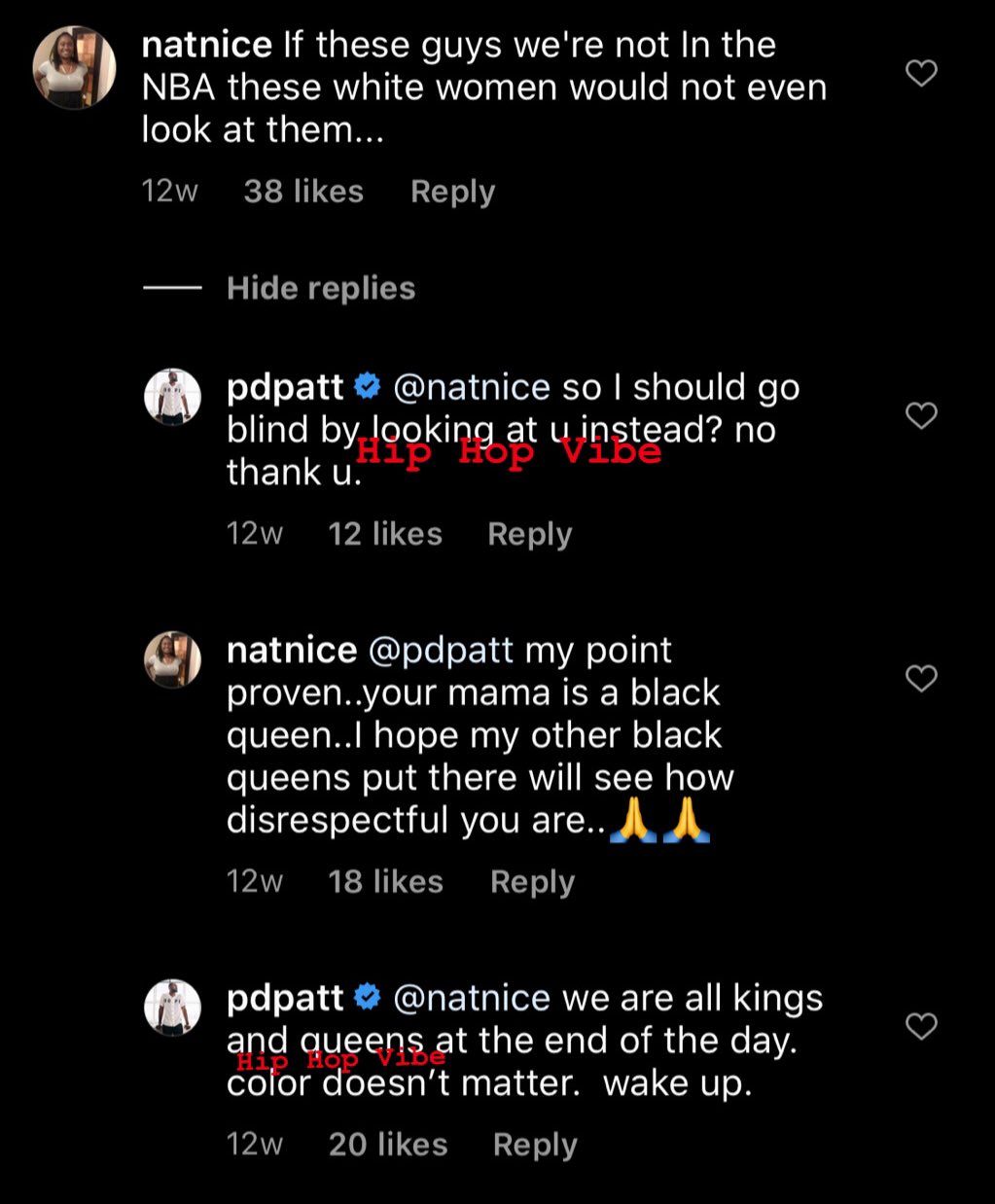 Follow Hip-HopVibe.com on Twitter @HipHopVibe1.